Tunnel VPN is the easiest way to create a persistent, secure connection between NG Firewall and a remote network. You can easily set up and manage a variety of network scenarios for a range of issues, such as:
SD-WAN applications where you wish to create a virtual network overlay across multiple locations that make up your corporate network.
Managing many small locations by redirecting all traffic through a central location
Privacy or circumventing geographical limitations
Tunnel VPN is powered by a fully featured ruleset, enabling WAN optimizations around which traffic is sent through the tunnel and directed at any given interface, host, subnet, port or other criteria. Like other NG Firewall apps, Tunnel VPN uses a tagging feature to enable advanced, dynamic routing scenarios based on specified criteria.
Tunnel VPN features a configuration wizard to enable connections to many privacy VPN providers like another ExpressVPN, NordVPN or even another NG Firewall. There are also generic options which support most commonly available OpenVPN-based providers.
Features
Configure all or selective traffic to be sent to cloud-based security services or Cloud Access Security Brokers (CASB)

Maintain multiple tunnel connections to several cloud exit points and prioritize tunnels to ensure a stable connection

Connect to popular privacy VPN services (NordVPN, Express) to create a private connection

Creates a safe encrypted passage to support a freer internet and net neutrality

Configure rules statically to force traffic through a tunnel (hosts or ports)

Configure rules dynamically to determine which traffic uses the tunnel via tags

Set up alerts for event statuses

Bind to specific WANs, allowing configuration of multiple tunnels for multi-WAN sites and ensuring each tunnel is using the desired physical WAN connection

Direct traffic to the most desirable WAN connection based on criteria like ports and protocols

Set up without NAT so that the cloud firewall has full visibility into the network
Provide connectivity through encrypted tunnels to remote VPN servers and services.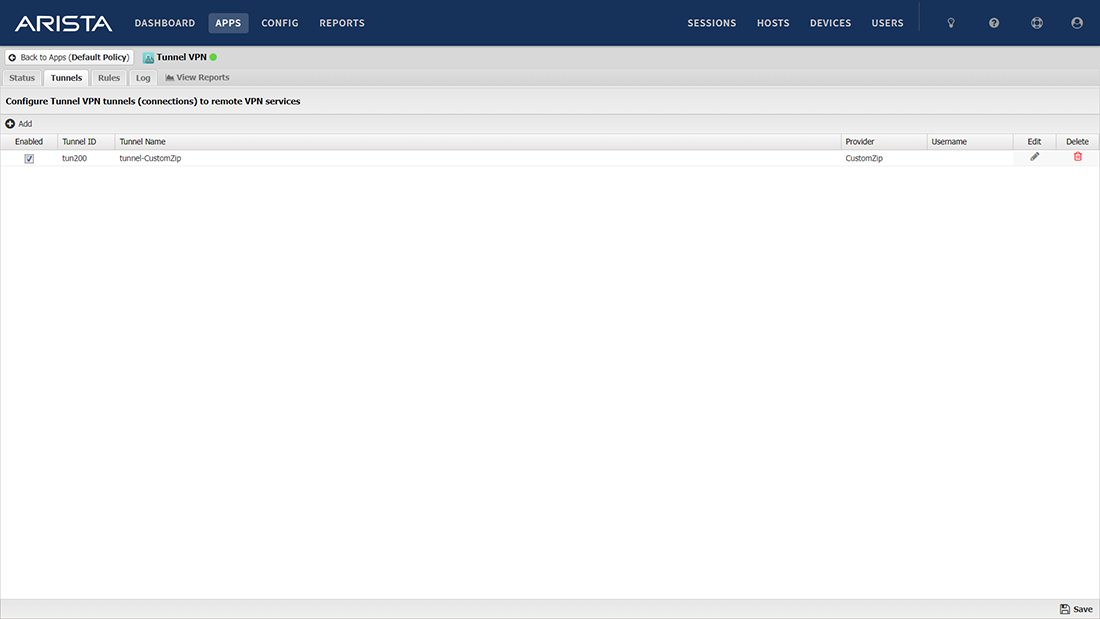 Tunnel VPN
Provide connectivity through encrypted tunnels to remote VPN servers and services.