Threat Prevention adds an additional layer of insight and security for NG Firewall users. Threat Prevention scans IP addresses, blocking or granting access to web and application-based content after a complete analysis of the IP address reputation.
IP address reputation scoring is based on the Webroot BrightCloud® IP Reputation Service ranking system. This intelligent, real-time packet inspection categorizes IP addresses into five distinct categories – High Risk, Suspicious, Moderate Risk, Low Risk, and Trustworthy. Just as a credit score, an IP Reputation score reviews web page associations, files, and any historical security issues the page may have had in the past as well as how clean it is today.
Layered Security Solutions
Layered Security Solutions are critical when creating a robust network security system. Implementing a multi-layered protection scheme can ensure that there are several checkpoints within the network to identify, check, and review content, complicating any opportunity a cybercriminal may take to infiltrate the network and access valuable data.
Threat Prevention, layered with the advanced applications currently available on NG Firewall, such as Web Filter, and Virus Blocker, allow SMBs and organizations to protect against malicious activity.
Web Filter and Virus Blocker applications ensure that people can only get to web pages that are safe and secure. Adding Threat Prevention as a secondary layer reviews files, services and services accessed on the network. If any network packets do not meet the established safety criteria, they are blocked and rendered inaccessible on the corporate network.
SMBs and organizations now have multiple battalions of protection working on their behalf to seek out and block malicious activity that might come from any entrance point. Any incoming threat will be stopped by one, two, or all of NG Firewall's protective apps before it can reach the company network.
Securing Encrypted Internet Activity
In a response to combat the increasing threats from cybercriminals, the internet is becoming more and more encrypted. When information is encrypted over the Internet, text and valuable information is scrambled into an unreadable format. This cipher text helps to protect confidential information being transmitted through the Internet. Traditional security solutions cannot unscramble the encrypted information, making it a hotspot for hackers to hide malware or other malicious code without being noticed. The Threat Prevention app can make an assessment anyway, even when data is encrypted and block any harmful file or transmission before it gets to the gateway.
Features
Blocks access to IP addresses based on Webroot BightCloud® IP Reputation Index.

Reviews and scans all encrypted traffic.
Block access to web and application content based on an analysis of the IP Address's reputation.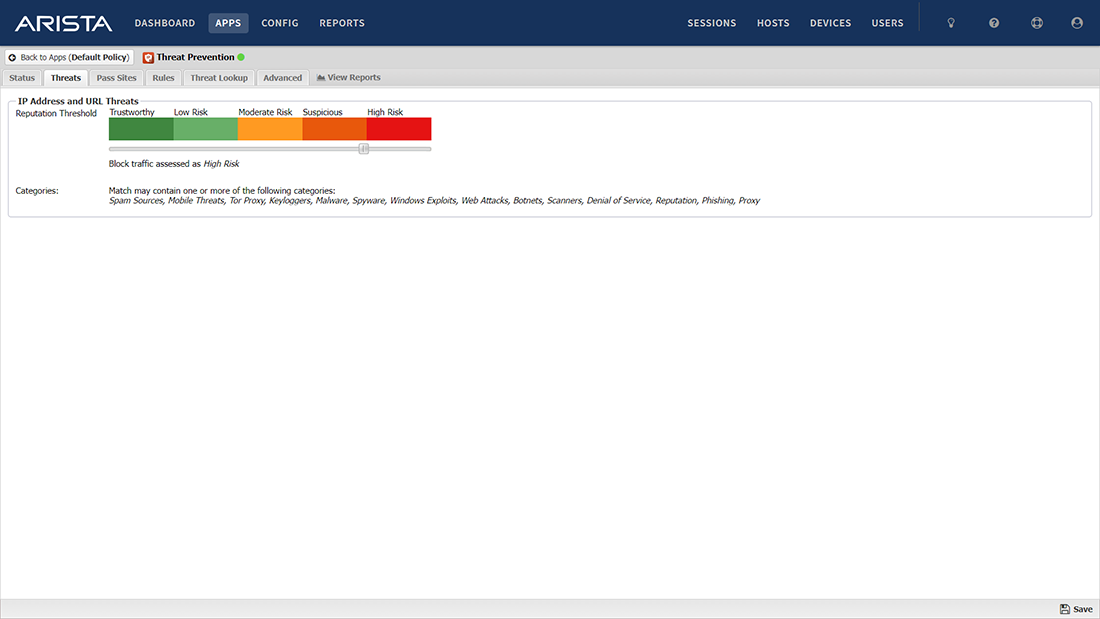 Threat Prevention
Block access to web and application content based on an analysis of the IP Address's reputation.