Don't wait until viruses infect your devices—block them at the gateway. Modern malware threats target servers, appliances, laptops, tablets, and even mobile phones. While it is important that all of these devices have end-point protection—with the latest versions of software and virus signatures—you may struggle with control over these devices as they connect offsite to unsecured networks, then return to your network with malware onboard. You need a first line of defense.
Virus Blocker leverages signatures from Bitdefender™, the leader in speed and efficacy, whose threat lab experts work 24-hours a day, 365-days a year to identify emerging threats. Heuristic models provide an additional layer of protection against zero-day threats, and real-time updates with no system downtime ensure that your network is always protected. Virus Blocker identifies and blocks zero-day threats, viruses, worms, Trojan horses, botnets, unknown malware, and new infections.
Bitdefender is a trademark of Bitdefender and used under license.
Features
Bitdefender awarded "Best Protection" and "Best Performance" by AV-Test.

Stops more malware than any other software (99.8% detection rate).

Protects against the full range of Internet traffic: HTTP, FTP and SMTP.

Decompresses and scans archives and compressed files: Zip, RAR, Tar, Gzip, Bzip2, MS OLE2, MS Cabinet Files, MS CHM, and MS SZDD; even protecting against complex archive bombs.

Fewer false positives means less disruption to data flow and users.

You define how infected email is handled (remove, block, pass-through) and any notifications (sender, and/or recipient).

Detects infected clients that join your network and prevents them from calling home.
Block viruses at the gateway before they reach the computer by leveraging signatures from BitdefenderTM.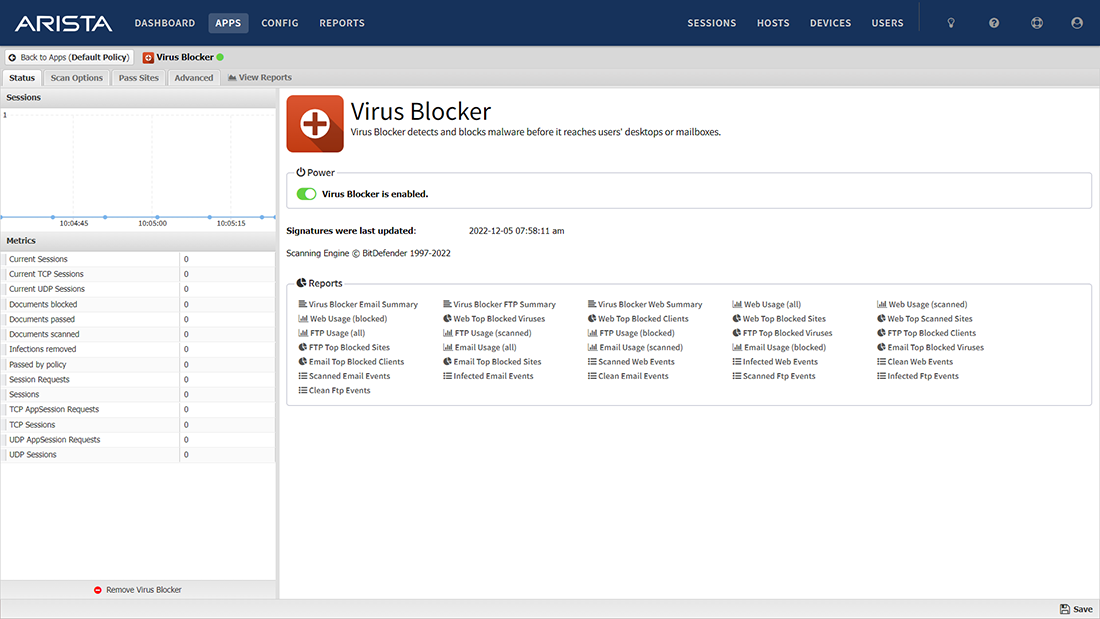 Virus Blocker
Block viruses at the gateway before they reach the computer by leveraging signatures from BitdefenderTM.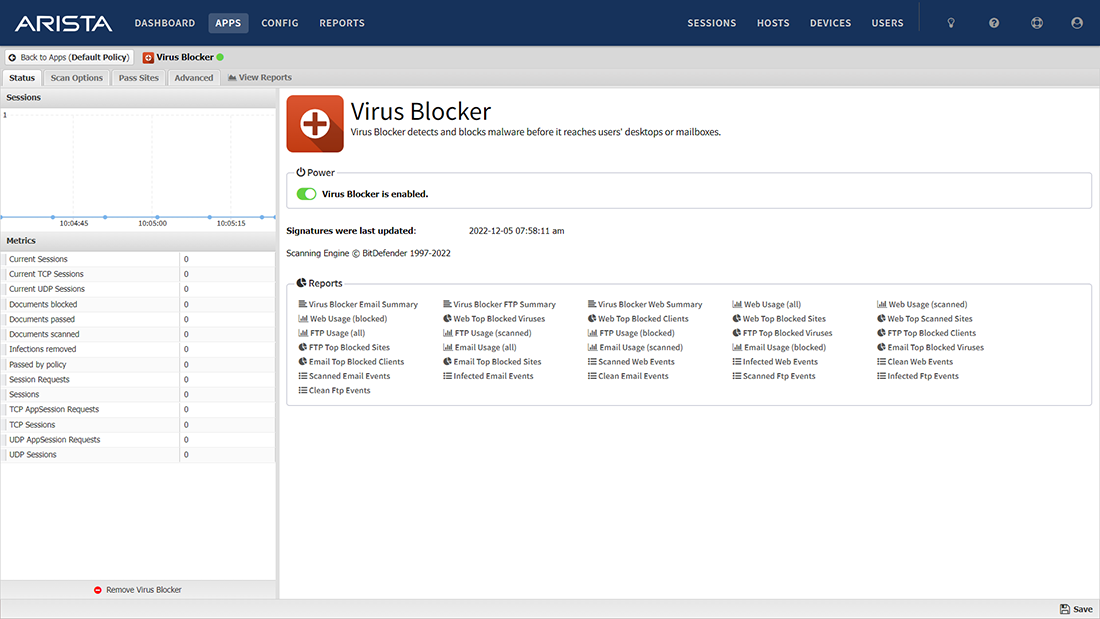 I have only interacted with the support team on a few rare occurrences, but each time they have been tremendously helpful and responsive. Katie Bochenski, Cerebral Palsy of North Jersey
NG Firewall makes my job easier… If someone is running an application that is hogging the bandwidth, I can simply restrict their access. Tom Rickard, City of Bridgeton
NG Firewall is the easiest solution we could find. It's a mysterious box that somehow works all day, feeds me information that matters, protects us from the unknown and keeps me untangled. David Matakas , KECdesign
Virus Blocker Lite App
Virus Blocker Lite scans archives and compressed files like zip, RAR, tar and many others. Signatures are kept current with automatic updates. Virus Blocker Lite provides basic virus protection, but can be resource intensive in some environments. Learn More.
Features
Protection for webmail and file transfer via HTTP and FTP protocols.

Protection on the most common email protocol: SMTP.

Reports and event logs show you what viruses are being blocked on the network.
Virus Blocker Lite does not require a paid subscription. Install a free trial of NG Firewall to use every app in NG Firewall for 30 days. After your free trial, you will be able to continue to use this app without a paid subscription.