Web Filters helps administrators ensure web and content security across the network. Easily and quickly create policies to block porn, gambling, videos, social networks, shopping sites or other undesirable or inappropriate content and applications from being accessed. Allow, block, flag or alert by category to easily set up rules that meet your criteria. With Web Filter, you can easily monitor or control searches across popular search engines including Google, YouTube, Ask, Bing, and Yahoo. You can also enforce safe search on YouTube, as well as log searches, giving you an unprecedented degree of visibility and control, ideal for content-sensitive environments like schools, public libraries, and social services organizations.
Just as Application Control manages access based on the application type, Web Filter manages access based on the type of content on the site. If you combine Web Filter and Policy Manager, you can enable more flexible access based upon user groups (e.g. teachers versus students) and during different times (lunch time or weekends). For example, you might allow teachers to access social networks any time, but students can only access them during lunch break or after school. Setting up and managing filter rules is quick, easy and effective with Web Filter.
Allowing access to inappropriate content can reduce productivity, create distractions or even lead to legal action. Web Filter is a fast, easy, and effective way to ensure that your users are not abusing your network use policies.
Features
Categorizes the largest URL database of its kind across 79 categories, including high-risk categories. 750+ million domains and 32+ billion URLs classified across 45+ languages. Additionally, 6 million dangerous IPs correlated with URLs.

A great first line of defense for blocking websites that support phishing, or distribute spyware or viruses.

No need to fiddle with proxy settings.

Easily create and maintain your own lists of allowed websites or file types (whitelisted) or blocked websites or file types (blacklisted).

Set simple rules, and Web Filter dynamically evaluates and blocks new and unrecognized websites based on their content.

Set flagging, blocking and alerting based on search terms for Google, YouTube, Yahoo, Bing, and Ask.

Enforce safe search for YouTube. YouTube searches can be logged, and usage can be locked down to show only content that meets the 'safe search' criteria.

Get enhanced malware detection with an even greater percentage of the internet categorized to block more attacks originating from web browsing.

Combine with Policy Manager to enable time- and group-based filtering rules, e.g. allow shopping during lunch time.

Combine with Directory Connector to see who is attempting to access blocked or flagged websites.

Reporting and event logs tell you how your network is being used or abused.

Voted #1 "Best Web Filtering Appliance" on Spiceworks.

Web Filter is powered by Webroot Brightcloud®.
Block inappropriate content at the gateway before it reaches users.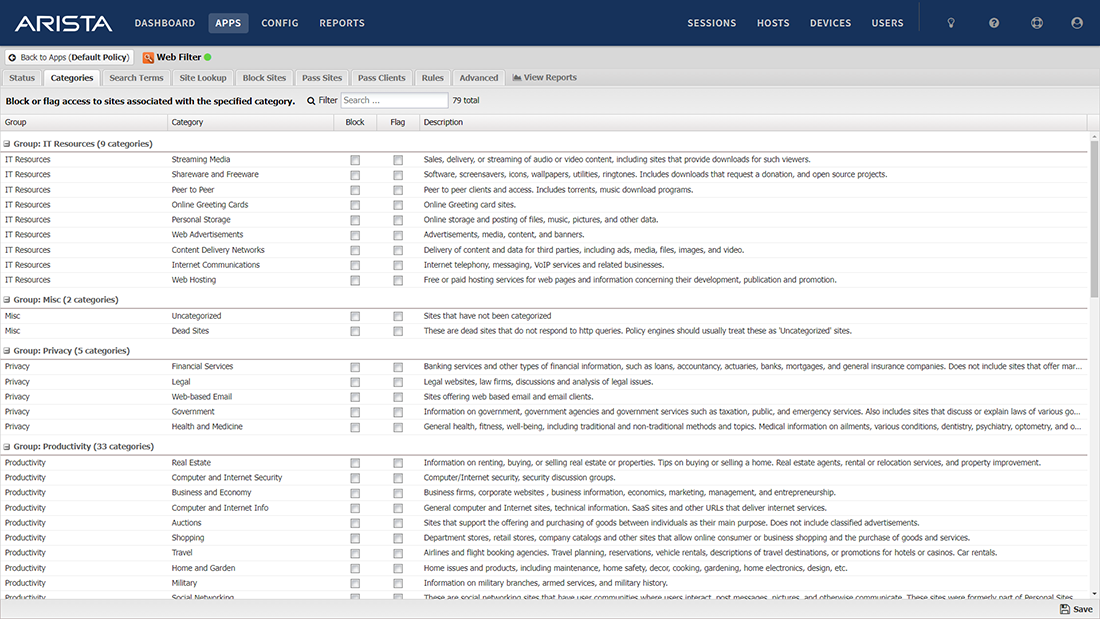 Web Filter
Block inappropriate content at the gateway before it reaches users.